Watch this guy open up 28 different LEGO sets he got off of eBay
Just2Good orders a whole bunch of cool LEGO sets from eBay. Because he was away, he didn't have a chance to open them. So in this video, he takes all the packages and opens them all at once.
Which LEGO sets do you think he bought? Watch the video to find out.
What was your favorite LEGO set that he opened?
My favorite set that he opened was the little London bus. It is a small set but it looks really cool and it would be fun to have that set and build it! Leave a comment and let me know which of the sets he bought you already have or which set you would like to own.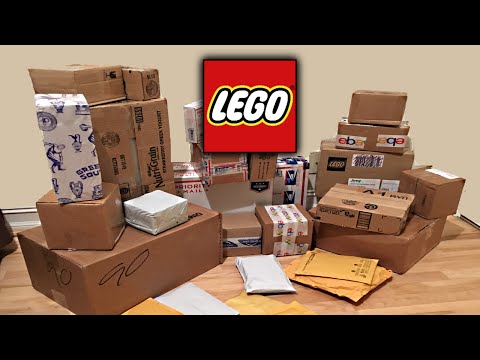 hello just too good here and today I have my biggest package opening yet as well as probably my biggest haul in terms of the mountain items i get this crazy there's over 25 packages here I think there's 28 total but i miscounted and we're all going to be opening them up in this one video so let's start off with the bigger stuff and it's gonna be a long video but i can't wait and these are all from he basically so let's get into this right so package number one that I'll be opening is a priority mail package and filling its kind of weirdly i'm like super close to the tripod so and hearing heat up close and loud and of course is from ebay and this which you can see has turned out to be the same pire mak now this actually is something that word back in July just like most of these have ordered in like july and since I was gone I couldn't open them so it's just weird because I forgot totally for i ordered this but the reason I wanted this isn't can get more of a taste of 2012 10 go i still have lashes bed cycle that I got a review about be reviewing this as well so that's going to be really cool i think this was a special edition that's what I've been like a war or pretty expensive alright and you know how I said that all packages are from ebay i sort of forgot that this one right here is actually from lego.com so let's open this up and i think this is the biggest package out of them and you can see right there first set from that package Doctor Strange which I've been trying to get this but its target exclusive so it's a little bit harder to find something the store sold in Lego stores second-set rush race algal sorry also the wrong pronunciation walmart exclusive so slide 14 summer third set amusement park bumper cars which is a target exclusive as well obviously this was just a whole bunch of exclusive sets and last up i think that's the last one is the London bus and I was my second London bust a little bit damaged i'll be opening this one probably keeping the other one sealed that's really cool to get so all those exclusive sets are from the lego store and now let's move on to the next package so package number three is priority mail number to this one's a little bit bigger that was kind of exhausting open but it's a box inside a box here shall be revealed I'm glad they kept it so safe you guys can see that says like a system what is it and it is the 1999 legostarwars Gungan sub this is one of the first lego star wars sets ever and it's so cool to get this sealed in mint condition i mean this is really awesome condition was like maybe one crease or whatever but it's just fantastic condition for pretty darn overset I don't like mushrooms vehicles and episode 1by do like the Gungan sub so I always used to see this in the calories I'm like I really want that set so this is gonna be awesome to build an open definitely for throwbackthursday for package number for why don't we switch things up into a smaller set let's see what's inside this one mint condition Lego dump truck from town this was actually a fantastic deal i think it was like originally 70 i just put random like offer 420 I got 420 and I'm like this for the make condition copy this usually goes right 90 so that's pretty pretty darn good really happy on how this came out so not only said I was looking forward to like getting before but for the deal i got it's just so getting such a good condition next up is this big box i think this is what package number five we got lots of newspaper underneath all I told her I'd say we wouldn't get weird in this whole it is this Lego belleville set which may be like why the heck did you buy lego belleville look I I'm not really a big fan of although I like paradise I like fabulous belleville is a little bit weird but I want it because that kid right there that kids hilarious i was like you know why not give another chance at belleville because i never got 90 belleville only got two thousand belleville and buy this set so this will be a review eventually but I don't know one definitely throw back there is that alright so package number six is just a small little one like a little bit crushed like it but it's a lego town I think 2000 Arctic set that's what i got like $MONEY for eight bucks really good deal not that was looking forward to be okay you know it looks good deal and it seems just like every other sets in this whole so that's going to be a throwback Thursday or something like that i'll be honest midway through unboxing this when I lost count which number one so i think 17 alright but haven't opened it yet be careful all right and this one is through yeah like this one this is this was damaged on the listing jobs prize from 2003 i think which is the latest always I always wanted sealed got it for what 30 which is a pretty good deal i did best offer now I finally got classic boba fett which I can't wait to open up that as well as a good mornin i think it's called the morning garden maybe i'm wrong but yeah but with that classic that's why one of the most so that was packaged number seven this should be packaged number eight right let's force that wasn't and the such a small holes that haha a little paradise up boats that I'm trying to complete paradise so like fabulous and power miners so how'd you get this one eventually i think i got it for like 20 which is a little bit overpriced but man I'll take it so that's gonna be fun to review and if that was eight this should be nine and he says like a system so there's a 90 set a lot of assets in here already from the nineties wish a little Lego and it is this kind of damage but I'll take it sorry about that my phone memory ran out but anyways yeah I've always wanted this and I just want a lot of spaceborne generals as the town spaceport sets are really fun colorful and have great pieces package number ten want to do up one of these envelopes because i have a lot of talk about them they're just on the sidewall these boxes are like I'm for me this is not a bag surprisingly or is it oh it is not a local family foot and a new set oh my gosh i got killed in the mail well that's some bad packaging honestly but whatever for what I paid for this because there's a new set I don't mind let's seal this is death star troopers this was actually set that came out two years ago I always wanted but I never got it and i found ebay like a few days ago 4 11 bucks okay okay bye that quickly hood that goes for like 20 so i can finally get if i get two deaths target adamant so really excited to build this one honestly this is like Christmas so if that was packaged 10 were on 111 now open ok so this would be nothing big it is just look at that Darth Maul this was the mail for . 12 promo I got a good deal on this so and I was you know I collect these little polybag minifigures so mind paying that was like something 20 bucks so this is packaged 111 so I mean not even 12 when I'm halfway there kind of funny still looks tough and get the sucker out I got a little bit damaged Oh got damaged right notes as Croesus going over this is the legos town divers diver both this was a little bit pricey was like 25 which I don't like paying that much for a small set like this but I want the swordfish i want to taste the divers and these are actually really expensive the diver sets in general but of course like everything else is sealed so keep them i was like 90 set like this crisis package number 13 unlucky 13 what you like damage she just destroyed that box but no box is not destroyed I was actually pretty good condition biker Bob I totally like this guy went under my radar when I got all the video game from like crazy lego king and cool kid and the train master station master and this is one of them this is this is the third and final one so that guy has exclusive face and everything so really useful minifigure and this was only like what nine bucks very cheap on even all right package number 14 is definitely a polybag yep it is the first order general which is really cool because this guy's license showed up at my tresses and I think I got all the promotional poly bags for star wars in 2016 these ones i've been released so far right package number 15 it is it's a great great great condition didn't get to read email the Paradise a-afterwards this one's called but just a really cool set hey i love this like it's a small little kind of Cabana part with the kind of wind surfer is a cool paradise is that in general so really excited to build this as well just expanding like paradise a collection alright so what is the 16 it is brought this because I really no uh oh yeah I remember buying this okay this is really cheap it's the mono jet you want to get mono just get this job okay that was bad sorry about that anyways I I this is kind of weird but it's got some cool pieces like that helmet and stuff and his big wheel so I want to see how this comes out actually had some life on Mars sets when I was much younger so that's gonna be interesting to see how they hold up to this day so that was what number 16 a Latino all right number 79 believe Hawley counselor I'm sorry guys together anyway oh you're counting wrong number 18 and it is the thin polybag i did not get the force awakens game so this was a cool . problem actually this is the last one out of a 20-16 so now I officially have all them things which is pretty cool to the minifigure i love exclusive minifigures 1800 I was like where is it it's actually in here with the head this is over this it's a little Lego bricks look at that so it's critical break out exclusive break out the words from so that's pretty cool it was really cheap all right package number 19 be careful this number 92 is it is it is the last of the old star wars sets is the deserts gift which is so cool i got this really cheap was like 20 bucks which form a condition copy is pretty cheap especially one that's sealed so that's going to be fun to open a review i love getting a gold star wars sets now this one's from 2000 this one is actually from greece which is incredibly cool i think that's one of the farthest packages got my I've got some from china but that's so cool considering the United States and it's a pair of shoes not getting actually shoebox Greek shoebox alright get all that out of the way and this is a Lego set right here let's see what package over 20 really oh my gosh package over 24 hard to open this last part like a paradise to set all that for the small side uh yeah try and complete paradise so this one is really the most exciting of the Paradise successful just really cool as from greece i think i got this pretty cheap like 20 bucks so that's a good deal for something sealed ok is so exhausting i'm on package under 21 never knew opening packages with you this hard alright this is Lego sports slam-dunk trainer this was like a split second lesson i think it was like seven bucks i'll take it for $TIME bucks especially since it's sealed i never got this little basketball court things that's really cool all right package number 22 alright you thought you could escape fabulous huh you thought you could escape fabulous nope this is only family setting this whole that I think so this was some Charlie's crows carry all I think it is sealed the only part open is this part but you see was never before open i got this for thirteen dollars in a bid so that was really good especially for sale thing I don't have any of the vehicles like this size yet so this is probably the biggest fabulous that i have yet alright 23 this is go to hear good jogo golden dragon polybag thing I don't know but it was something it's a little thing like six bucks i'll take it never got this slide for our review it and open it up number 24 you gotta keep them on add the air off whenever I film reviews that's why I'm like sweating itself is the air would just get away whenever I film videos and stuff just sounds good for is to make condition Alpha Team ogle command striker never had google in this outfit before so that's why I really wanted this but it was cheap it was like 10 bucks 25 up this isn't my info right here this is the info from the like I guess I got this there's something like from lego but like not from lego like that it was from lego to the seller but they repackaged in my info let's see what design I you know what I think yeah what just a good got a sealed box of cereal to the simpsons well I think it's a bunch more but no actually seal box if you see all is the display box i got this because my display box for serious to is damaged it was always damage i never got a good box so how to play like 12 bucks for this and work up 26 there's only three left what the heck is a legit now I actually for this may be like what the heck is a nap I don't even know like legit I don't know what it is i just saw it for five bucks I like it to be but I heard it was a failure of a thing that's really all I know that's sort of like connects the pieces i want to think are compatible for Lego stuff so it's gonna be fun to mess around with everything that's wrong with its just think 95 I think and these told so well you could find this poly bag for five bucks free shipping ebay alright 27 seconds last one let's do it is the 2016 lego classic vintage d2c promo i miss out on this in the lego store was actually sold out when I want to get it so i had to get it now in the last box there's a box i was filming on so is it accidental . all right here it is the last set it is the sea cutter this is actually really famous like upset so I want to get it it was pretty cheap on ebay was like 30 it really floats that says i love like a boat so that's gonna be fun to open i think it's from like 95-94 gonna so here's everything from this Lego mystery whole the biggest one I'll probably ever have and I guess we'll recap each one individually so starting in the back there's the belleville pretty playland set which I got for that guy in the corner there's a the fangpyre mac i believe it's called from Ninjago which I got to give another chance to 2012 ninjago there's jobs prize from 2003-4 star wars which I got for boba fett classic Boba Fett and because it's just a cool little place that from 2003-4 Star Wars there's also the lego sports slam-dunk challenge was just a great deal seven bucks for that and or whatever I said on members around seven and i never had that little basketball hoop setup also i got sets to further my collection of fabulous and what I'm most excited for is Seaside cabana because it's just a really cute little set these two they're ok they're not super special is no special pieces or anything but there still is still got pretty good deals on them actually this one I paid what twenty dollars for that was a little bit steep there's life on Mars mono jet this one I got for the pieces and it was only of flammable what I said ten dollars i forgot i I check back on so the prices before sometimes i just keep it a surprise so I don't remember much of it there's also the fabula and care for something croak aerial that's cool because i got $13 fantastic deal sealed on that just like sealed everything else on this whole is sealed and that's to further my fabulous collection i got this for six box or something like that this 45 because i never tried to nap not really looking forward to building that looks really weird i also got this Darth Maul thing for around 20 good deal for that promo bag i'm trying to get all these promotional tools the minifigures just across the various themes and the further that collection i got thin or fn2 187 that was a promo for the new game that i never got and that was pretty cheap i think i got it for like ten to fifteen it was well as early listings i just got it quickly before they bumped up the price or whatever first order general was also really good i think i got like this one for ten to fifteen or something like that and remember desert skiff was around 20 good deal because it's a classic Star Wars set i'm trying to get a lot more classic Star Wars stuff because i want to do the top 10 lego star wars that's my feeling i can't do that unless I get a lot of these really memorable classic Star Wars sets and to further that I got this is probably this and the next we'll take a look at the probably that the deal then was proud of this is a Gungan jet Gungan sub start and that was $69 but mint condition like the box is flawless like it'sit's just excellent condition the other one and I'm really proud of is this one right here just dump truck because this is just a fantastic condition for the box and this was twenty dollars because i did a best offer accepted that surprisingly even though usually just like 70 meant under here there's a the comm link the legos these are like some more like a town stuff up this was I don't remember what i said was like 10 or something like that good deal for the pieces and I want to get more space port for town also this is micro bob this was about ten as well just a good it was the minifigures I want to complete that collection of videogame exclusive characters is actually what I'm secretly missing and you'll see that actually in the next list video and I'll talk about that there's also this Arctic set this was only about six or seven or eight and remember so I got it because it was really cheap and i don't i don't have that green student or tick guy so might as well get it and it's sealed and everything like that also behind here is the death star troopers that was like however when I say like a lot of dollars i think it was because he was selling his collection sad to see that came so damaged what is newer sets i really don't care also there's a diver boat from Laketown divers that was like 20-25 pretty steep alright for such a small set but i really like that swordfish never got any lego town diverse stuff you know I always wanted it then we've got some more recent stuff we got the London bus the lego friends music part bumper cars and the ratio of google set in the doctor strange set those are all exclusive so they don't sell them at the latest or directly you actually have to get them on Lego shop online now I'm just a new policy they have so i had to get those and I got those just at the end of july whatever the beginning of august and remember also i got this this wasn't from that same one but rather i got this on ebay for like 10 10 to 15 and remember that's a pretty good deal because this is actually out of print they ran out when I went to like this store to buy it there's also this alpha team i know it's called almost Strike Command strikes was pretty cheap so i want to get because i don't have that although minifigure i have the I think deep-sea one also there's this little promotional brick this was cool because it's just a outwards from by liking these commercial breaks and it was only like four bucks on us that's a good deal and lastly I got this the Lego Simpsons series to me for your box this was actually not sealed no pacts and there's just a display box because my current one is damaged so I believe that's it that's everything I got in this whole hope you guys enjoyed this whole video I don't know if I'll ever do mystery unboxing this big again but it was fun doing this but also very exhausting so i will see you guys later