250+ LEGO Mini Figures Unboxing
In this video, you'll see an unboxing of about 250 different lego mini figures.
My favorite mini figure was the green alien looking figure that had the laser gun in his hand.
Which LEGO mini figure was your favorite one?
Which of these lego mini figures was your favorite one? Do you have any of these in your collection? Leave me a comment below and let me know which of these figures you liked and which ones you already have or don't really care about.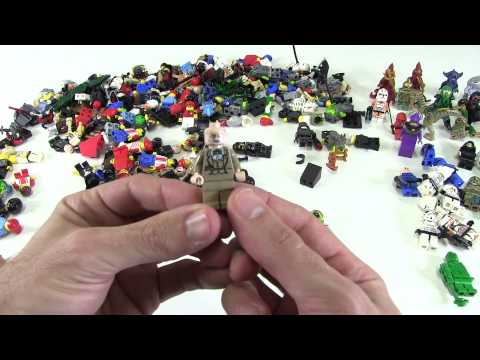 one of builders open this box they get too many figures yes it is feel bag bubble bubble bag of figure here that we got I love you minifigure unwrapping because it's like a little surprises all in one video so we're going over this up and see what we've got missed our video we unboxed or unwrapped 400 minifigures to see what we got that's all that we can check out let's just dump them all out right here on the table it is i do not remember exactly what's in here but by the looks of it so far I like what I see so let's dig in and kind of go through it and what I like about this committee last one – lots of accessories included so let's go through the easy ones that we know we're going to be good right here from Atlantis this is a great figure forget the name I know it's like the King King squid octopus of Atlantis I believe it's just a great figure you see there so that's really good I put the good ones you can see that right but the good ones up there seeing quite a few Atlantis is and here's another Atlantis figure great armor on who to bring it always good to get the green ninja so here's the green engine what I really like about these is they're all in really good shape and then they have the accessories there's an energy coal nice lots of getting lots of troopers that I can see if we can spot is a trooper this probably means you're going to get some collectible many things let me throw up screen Atlantis some galaxy squad there's a few of these around 2-3 to have the weapons though so I love that another green ninja ZX I think that's the X with accessory she trooper that's always good Atlantis divert an eye patch here's a nice one from the dyno line he wrapped her here I have this so i don't need it for my collection but God now that I've got more I don't think I need this one I have a few i gotta the markings are different fusing so and have to see if that's what i need you're not some pirates sidekick from galaxy squad here is one of the old ninjas Kai's dad city stuff octane driver there's Berra Sophie general good Genosha stripper so whoever got rid of this collection did it having bought some recent stuff because these are these Geonosis troopers are recent as these Senate commandos are as well see the new blasters we got to those I'm sure his helmet is here somewhere just have to run to appear to bike the night successors more cash expenses two different styles Atlantis a little man ray looking – that's a lot of fun put him back there was this guy doesn't look familiar to me you're the elves and let me know what that's from but that doesn't look familiar some harry potter here which is retired now for some elves so either you take this from his sister's collection or he's in the label or was into lego elves no longer obviously you want to dump it all soccer player number seven not that exciting always get these guys another green ninja so total of three ninjas that's beautiful the beautiful thing for some agents i think i can remember and it's probably gonna be more elves here it is so they've got multiples of this set maybe they did it for parts that's kind of what this looks like it's a Brooklyn selling the buy stuff for parts and dumps the figs all in one spot as these figures in excellent condition basically mint condition on these figures all right what else Ice Queen here we observed the bottom half of those two in there somewhere and get some older stuff here we go here's the bottom half observed I don't think i ever owned this one so I have to keep that our miners there's the Senate commando helmet that we need it here shark from Atlantis this is great a lot of people other shows ask for these so now we have one of those stormtroopers you to put true birth lots of troopers that finding the star wars and then this I think was from Indiana Jones is an Indian Jones prince of persia i cannot remember the soccer player we have the green army soldier from toy story so they definitely were in a little bit of toy story as I look things over here so we have that here's another one there's the dwarfs helmet here's another one and another so I got all four you need a helmet video de chi good they got the advent calendar quite a few galaxy squad is another side track which as well here's another toy story 4 get this guy's name it's a cool figure nevertheless the racer yeah it gets Indiana Jones kool they're all over the place i mean they liked a lot of a just like Lego no specific theme really stands out just a lot of everything is energy is that Zane call me if you need to do some more troopers good variant trooper as this one yellow no troopers against here's a Indiana Jones senior more Indian Jones here so trooper those are always one of my favorites officer twin plot calcloud car so they probably figure out there somewhere some medieval stuff Castle stuff battle drugs is the worst thing that you can get in the u.s. because nobody wants battle joints are building our freakin look for that harry potter it's good one this guy I think that's Harry Potter to a lot of big harry potter guy to dogs this I don't think goes on here this goes in and Jones the Crystal Skull and then have some skeletons that's indiana jones i believe it's like a royal guard this looks like you can complete these but right now they're not complete look at Dartmoor will guard the back that's the best in cloud car driver now i think it is here's a death star trooper another ninja old-school ninja guys dad city stuff sounds – squad some helmets for our true that throughout here they need their hands this is just a really good one that this is a really good bye Oh No ok so that's what this is so the helmet we somewhere here is Cole's dad no that's called like the other cuts the original kool that's nice bionicle action on this alligator flexible minifig the this is the evil robot and then here's Indiana Jones this guy the always it mugs and then Jones kit and the crystal skull there's another Death Star Super you to pop lots of troopers evil night couple evil nights here more toy story some aliens with the markings on them so I think those are a little bit more rare for the stripper or dog push this step down shadow troopers here too that's what's so odd about this i mean they fought these we not that long ago there are some more older fancy era castle stuff not that long ago and they're already selling these somebody needed some money quickly orgia notion super dr. dogs here a little bird probably from that elves set figure we got here's the old no this is the new and this is the newer charge are not that anybody wants them and then there's the other gonna get that goes along with them shields were cool and there is some space stuff so these are both nice and clean for the most part of your spot on this helmet but most of the kingdom so there's that some space business space police or agents it's one of them but he is very cool very cool guy wow this is a nice fine right here and so this is the original Deadpool mixed in here what a great find that's why I love doing these you get a mix and then every once in a while you you hit a home run and that's what we just did we hear it out of the park getting the original dead pull this thing is worth at least 35 to 40 now because you can't get them and everybody loves Deadpool so we pulled a dead pull out of there nice he's probably the best one of the bunch there's that i want to say that's Harry Potter but i'm not going to say that because i'm not entirely sure because i don't really know Harry Potter stuff here is the top or a Royal Guard and there's a some hot strippers Mandalorian troopers here is all those helmets there's dr. Jones is seen here here's his hat there's another man ray which now we get that – that I gotta admit this is a great unboxing here's another elf because this stuff is a Shakespeare this is a fifteen-dollar fig easy Shakespeare collectible minifig thank you as something else it should be in his hand amor en garde here for battle droids going to speed this up sand agent Laurens and Yoda always fun to get yoga galaxy squad shoot so this is a great one with the pink good Atlanta stuff lots of ninjas which ninjas are very popular now a lot of troopers everything seems to be complete there's nothing i'm finding here another great one the ice dragon here for dr DX DX for Zane which you can only get on the dragon of those r agree Chewbacca seen both effects helmet here but I don't see Boba Fett here is Darth Maul sure that legs here everything has been complete and here it's here is his leg so there's dark malt mechanical legs here both that time in here is Boba Fett so nice nice done there the old Anakin another hand that's a good one either tie no troopers up here here's and one we haven't had here is what is this from this looks very familiar I want to say Lord of the Rings but full body is not there so i think it's from something else let me know if you guys remember i can look it up so that's it another cold original call here so nice pull a nice unboxing really good alright guys thanks for joining us again these are fun this is a really good one pulled a lot of great stuff a lot of great ninjago even a dino some older in Indiana Jones more harry potter some older toy story lots of troopers lots of galaxy squad of course there's a lot of older castle some city stuff mixed in which is it as desirable some power miner it as desirable but still good in a few like Shakespeare I'm sure is this point I'll is going to show up at some point everything else has and a boba fat most of all of these are which are retired they're hippo thanks for joining us take checking it over along with us we'll see you guys soon here on the brick show