903 pieces in this Clone Turbo Tank Lego Set (no. 75151)
In this video, Evan unwraps a bunch of bags from this new LEGO set from the Star Wars series. This set comes with lots of nice mini figures to add to your existing LEGO collection.
I especially liked the mini figures that LEGO included in this set. I believe there were 6 in all, but you can watch the video to see which one you liked.
What do you think of the time lapse Lego set build?
This was a really cool video because at the end, we get a nice description and view of all the mini figures and also all the faces that are included with each of the minifigures. Which ones do you like and which ones do you not like? Leave a comment below and let us know.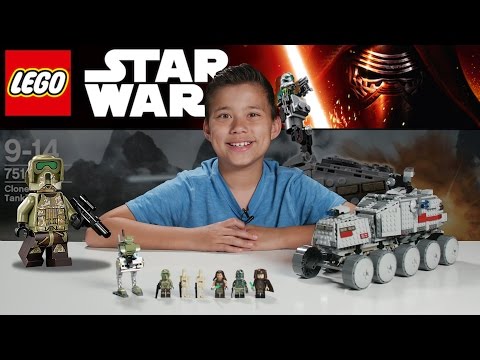 we're grab Wow hey guys everywhere back with another lego star wars sent today we have the clone turbo change this is set 7-5 151 is recommended for ages nine to fourteen and it's 903 pieces you get six minifigures Luminara Unduli Quinlan vos clone commander gree elite corps clone trooper into battle points because look at the back of the box looks like this event movable part and a bunch of different compartments where you can put many figures and vehicles ok let's take a look inside so we have a tag number 9 mag number one of them to wheel tag number 5 back number three and number two that number four and the instruction manual ok let's get building [Music] so here's the completed clone turbo tank and let's start off with the minifigures first up we have Luminara Unduli she's got a cool black and brown outfit on and a round cake she's got a brown and headpiece and she comes with a green light fever she's got two faces a calm face an in Greece he's got her . base markings and it sort of looks like he's growing a little goatee she's got mesmerizing blue eyes into matching brown lipstick next up we have Quinlan vos he's got a brown road with a black chest plate and a cool belt got black gloves on but it doesn't have any sleeves he's got long flowing here and it's also got some face markings looks like a cross between torn open shield and Tonto from The Lone Ranger one of those faces relax and the other he's got a little snarl he also comes with the greenlake deep next we have clone commander gree this guy comes with a gun and binoculars he's got a green uniform that's kind of torn up and maybe it's just camouflage the back of his pants are black and he's got dark green leaves he's got a cool minute silver helmet and underneath he's got one mean face next to have the leak court clone trooper this guy's also got a green its uniform which makes it easier to hide in the environment on the further back you got some nice printed pockets you also comes with the little blaster his helmet also as camouflage and underneath it's another mean face and finally we have the battle droid brothers I name this one Roger this 1ba they come with the same black blasters we've seen a lot of these guys before it so nothing new here we also have a little walker for the plunge this thing's pretty cool matches his uniform in the front it has a little spring-loaded stud shooter it's on a ball joint so it can move around in all directions it's like this can be posed as well he looks kidding looks like it has some cool tennis shoes on up on the top there's a little place for our clone trooper so we missed them in there on the back there's a little compartment it kinda looks like antennas and you just fire the Sun like this hey Bob get out of the way I'm Roger Kay time to roll out the big boy the front of the things what it looks like a head of a nap it's got some cool details like these windows are some headlights underneath and on top this culture that you can move around it can rotate 360 degrees but it can't go up and down doesn't get also fit up to sense to access the cockpit you just pull this flap up and push this flap down inside we have a space for a minifigure to sit we have a little control panel under some clips in the fact one of them has a clear copy debug besides don't go down you have to squeeze this guy in once he's in there just close them up we're underway holding is a vehicle turns inches from side to side when Egypt left it goes left and when you should write it goes right it works just like trucks on a skateboard on the third wheel there's some spring suspension that helps keep it upright you set of wheels move independently so we can manage over difficult terrain right here it looks like a neck and having cool details this part looks like an old telephone so I guess who you need to make a call this is ready to do it there's a nice details on the side panel those two spring-loaded missiles on either sack the fire all takes a little pressure on the back wow you need to be careful when you're moving this or else you might get yourself in the eye doctor have some more weapons there's some cannons that move up and down there are some windows and rewrites this thing is well defended from the rear so anything is chasing this thing down there in for a rude awakening the back open just like the front and pull these two flaps down and that there's two places set one is scaring wheel the other has a control panel on the top we have a little turret that can also rotate all the way around and up here we have a little look out platform to access the mechanism you need to put down the side flaps this and when it's down it makes a nice little platform that's the way friend can keep extra missiles this yellow thing is the control and today go up yourself to turn it one down it's pretty cool Play feature if you have time but if we're gonna rest just push it up and down yeah that's a little place to put the Walker if you fold it just close it up there we go to rehab and when you want to take it away the little handle you can do some pretty cool job with this thing wow wow ok guys so I was a lego star wars clone turbo tank you guys want to see more lego star wars that's leave a comment down below thanks for watching two guys next time bye hit me and I at the hip [Music] [Music]